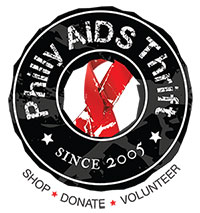 Philadelphia AIDS Thrift's mission is to sell the lovely, useful, interesting, amusing, and sometimes mysterious stuff generous people donate to our thrift store and then distribute the proceeds to local organizations involved in the fight against HIV/AIDS.
PAT's main beneficiary is the AIDS Fund. AIDS Fund distributes money to its partner AIDS service organizations in the five county Philadelphia region with NO administrative costs taken out.

In addition to cash contributions, Philly AIDS Thrift provides free store vouchers to Philly area HIV/AIDS service providers for distribution to clients in need of clothing assistance and household necessities.