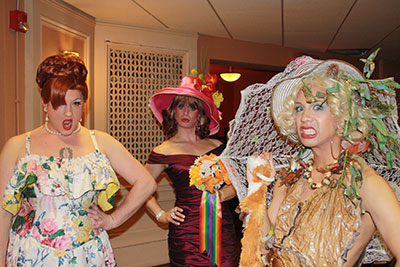 GayBINGO! is the fabulous, irreverent, campy, wildly popular monthly event that has been entertaining Philadelphia audiences for 18 years!
Celebrating a different theme each month, hundreds of people pack the hall in Center City's Gershman Y for a night of good old-fashioned Bingo… with a decidedly different twist! GayBINGO! is hosted by the infamous Bingo Verifying Divas (BVDs!) – a wild bunch of drag queens who entertain the crowd with their wacky humor and always outrageous costumes.
GayBINGO! promises to be an evening of unbridled fun, complete with ridiculous musical numbers, hilarious drag queen antics, chances to win fabulous prizes, and much, much more!
20th Anniversary GayBINGO Season - 2015-2016
In honor of GayBINGO's 20th anniversary season, AIDS Fund is reprising some favorite themes from years past:
9/12/2015

Rocky Horror GayBINGO!
"Let's do the Time Warp again!" (from June 2008)

SUNDAY, OCTOBER 18 AIDS WALK/RUN PHILLY 2015


11/21/2015

Boogie Woogie Bugle Boy GayBINGO!
"Come blow your horn!" (from April 1998)

12/5/2015

A Very Martha Stewart Christmas GayBINGO!
"It's a very good thing!" (from December 1997)


1/9/2016

Divas Las Vegas GayBINGO!
"What happens at GayBINGO stays at GayBINGO!" (from March 2005)


2/20/2016

Lace, Leather, Feet & Feathers GayBINGO!
"What's your pleasure?" (from March 2005)


March 19 BLACK TIE GayBINGO! at the Loews Hotel. For more information, visit http://www.aidsfundphilly.org/events/btgaybingo

3/26/2016

Totally Awesome GayBINGO!
"Mousse up your hair and party like it's 1985!" (from April 2009)

4/23/2016

Beauty School Dropout GayBINGO!
"Grease is the word!" (from June 2013)


5/21/2016

My Big Fat Gay Wedding GayBINGO!
"Massachusetts, here we come!" (from May 2005)


6/11/2016

20th Anniversary GayBINGO Spectacular!
"It's a roaring '20s evening!"

Click Here for sponsorship opportunities
Event Information:
Call 215-731-9255 now for tickets
Don't be disappointed!
Tickets: $30 for Reserved Floor
$25 for Balcony
Location: Gershman Y (401 S. Broad)
Intersection of Broad & Pine
Center City, Philadelphia.
Time: Doors open at 6PM and games begin at 7PM.
GayBINGO! has a running time of approximately 2 hours.