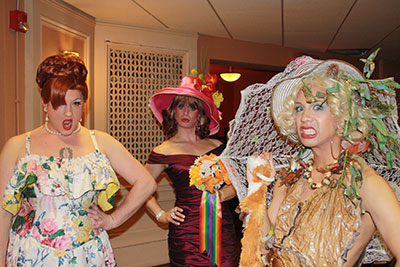 GayBINGO! is the fabulous, irreverent, campy, wildly popular monthly event that has been entertaining Philadelphia audiences for 18 years!
Celebrating a different theme each month, hundreds of people pack the hall in Center City's Gershman Y for a night of good old-fashioned Bingo… with a decidedly different twist! GayBINGO! is hosted by the infamous Bingo Verifying Divas (BVDs!) – a wild bunch of drag queens who entertain the crowd with their wacky humor and always outrageous costumes.
GayBINGO! promises to be an evening of unbridled fun, complete with ridiculous musical numbers, hilarious drag queen antics, chances to win fabulous prizes, and much, much more!
GayBINGO! 2014/2015 Schedule/Themes
9/6/2014

Material Girl GayBINGO!
"Living in a Material World"

SUNDAY, OCTOBER 19 AIDS WALK/RUN PHILLY 2014


11/15/2014

Golden Girls Reruns GayBINGO!
"Cheesecake?"

12/20/2014

Country Christmas GayBINGO!
"It'll be a Ho Ho Ho Down!"


1/10/2015

Golden Globes Party GayBINGO!
"And the Winner is …"


2/21/2015

Fifty Shades of GayBINGO!
"I want you sore, baby"


3/21/2015

Cinderella GayBINGO!
"Bippity Boppity Boo!"

4/25/2015

Scary Movie GayBINGO!
"I See Dead People!"


5/16/2015

West Beverly Prom GayBINGO!
"It's a 90s Party … 90210 Style!"


6/13/2015

My Favorite Things GayBINGO!
"The Hills Are Alive with the Sound of Music!"

Click Here for sponsorship opportunities
Event Information:
Call 215-731-9255 now for tickets
Don't be disappointed!
Tickets: $25 for Reserved Floor
$20 for Balcony
Location: Gershman Y (401 S. Broad)
Intersection of Broad & Pine
Center City, Philadelphia.
Time: Doors open at 6PM and games begin at 7PM.
GayBINGO! has a running time of approximately 2 hours.