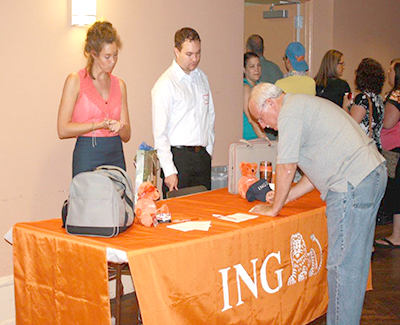 AIDS Fund depends on a diverse group of Sponsors to support our events. Our Sponsors include large corporations, foundations, local businesses, and community organizations. Our Sponsors are leaders in our community and play an instrumental part in the success of our events and activities. Our Sponsors receive full recognition for their support, including visibility in our promotional campaigns.
Sponsoring GayBINGO or Black-Tie GayBINGO is a great opportunity for your company or organization to get its name out in the community. Our GayBINGO audience is an eclectic and diverse group of individuals who are highly loyal and brand conscious consumers that support the business and services that sponsor GayBINGO!
AIDS Walk Philly and AIDS Run Philly are the Philadelphia region's largest annual HIV/AIDS public awareness and fundraising events, attracting over 10,000 participants and volunteers. AIDS Walk Philly generates over 7 million media impressions in our highly visible public awareness media campaign. Our Sponsors are acknowledged on bus shelter posters, online and newspaper ads, radio PSAs, television features, billboards, taxi tops, and on all our direct mail and email campaigns.
By becoming a Sponsor, you are making a significant contribution to the fight against HIV/AIDS in our region. AIDS Fund staff will work closely with you to create a sponsorship package that suits your individual interests.